When I was little, I loved the idea of travel, not the touring a new state or country but the actual travel part. I used to get so excited for the plane ride, something many of us dread today. Sometimes I would have to remind myself that after the plane touched down, the real traveling was going to begin. I even held TV packing shows weeks before a family vacation, telling my pretend viewers all the necessities to throw in their Little Mermaid backpack before an upcoming trip. This sensation probably developed on my first trip overseas when I was 8 years old. I remember flying high above the Atlantic at night, with the cabin lights beaming and other flyers seemingly so glamorous to me. My opinion has changed somewhat today as most airlines dish out starvation, two swigs of coke are served, and c-shaped seats remain covered in stains you do not even want to know what they may be. However, I did realize that my 8-year-old opinion of travel is simply conveyed in the new movie "Up In The Air".
I suppose I am just joining the bandwagon of travel writers commenting on "Up in the Air", but of all of the reviews and comments I have read, the general consensus seems to be the movie is not portraying the life of travel in a bright runway light. However, I left the theater not feeling sad or depressed that old bachelor pretty boy George Clooney was left "up in the air", traveling without a familial home base or friends. (Sorry to all of you I just gave away the ending). Just like 8 year old me, he simply found purpose in the actual travel aspect to his job.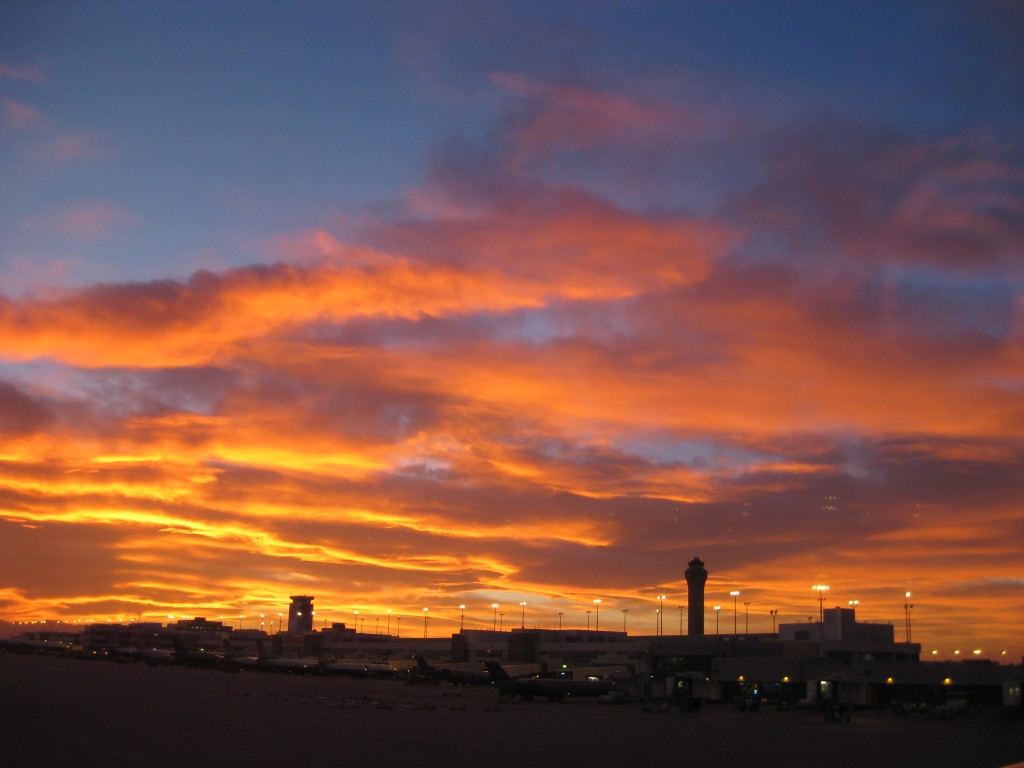 Based on the book by Walter Kirn, the movie "Up in the Air" focuses on travel and the life of Ryan Bingham. Bingham is a corporate downsizing consultant. In other words, he fires people for a living. His home base is in a fluorescent Omaha apartment, but Bingham spends almost the entire year traveling from company to company, jet setting to exotic locales like Saint Louis and crashing tech conventions at the local Hilton in Miami. I do not want to sound snobby or out of touch, but the destinations Bingham finds himself are not all that glamorous. Still he loves traveling, enough to stock his mini fridge in Omaha with the tiny liquor bottles in hotel mini-bars for those few days he spends at home. Bingham's ultimate goal through all of the traveling he does is simply to reach 10 million frequent flyer miles. However, most would contend Bingham really has no connection to friends and family due to his life on the road.
Other characters in the movie are presented with conflicting opinions to Ryan's, especially his uptight young co-worker Natalie who cannot fathom why Bingham would rack up the miles just for the sake of doing it. Without summarizing the entire movie, Ryan Bingham reaches his goal of 10 million miles. He ends up giving the miles to his sister who cannot afford a honeymoon. My favorite line coming out of the theater was a woman's only comment about the movie, "Well that was nice he gave the miles to his sister."
Most reviews seem to say the ending is depressing, with Bingham establishing no real connection, romantic, friendly or familial. However, I did not feel depressed leaving the theater.  The only reason Ryan Bingham feels he must make connections with people comes from supporting characters urging Bingham to do so in order to avoid being alone. Before, he is perfectly happy traveling some 340 days out of the year. It is not until Natalie introduces video chat technology to firing people, eliminating the company's travel, that Bingham's purpose is put on the line.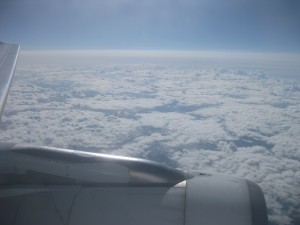 Bringing it back to 8 year old me, those car rides or flights brought me a sense of purpose. That excitement, the bright lights of the cabin, the idea that I was going somewhere, gave me purpose. Holding packing shows, I felt a sense of meaning, this idea that I knew what to pack more than anyone else did. Much like my 8-year-old persona, George Clooney's character finds purpose in travel, knowing what to pack as well, the security lines to avoid, and the perfect car rental to choose.  Instead of a packing show, he holds motivational speeches about "What's in your back pack". Bingham may be juvenile, but why scold the character from creating meaning by going through security or flying on an airplane. He is not alone. The characters, flight attendants, pilots, airport employees, hotel concierges, and fellow travelers, even if they are adulterous wives, fill Bingham's life with conversations and meaning.
The actual travel aspect is not lonely. There will always be the power tripping TSA agent examining mascara like its TNT or the stranger next to you on a flight drinking glass after glass of Cabernet wanting to tell you his theory on life. These are the remembered stories, maybe for laughs or out of annoyance. Nonetheless, there is some company, some connection in those stories. Bingham's character could have easily been transformed into an eight year old's mindset and I had a packing show before it was Clooney cool to prove it.