Grabbing the northern red cliffs of Santorini, similar to that of a parent's grasp on a roaming toddler, the village of Oia bathes in the spotlight. It is no wonder Santorini hangs on to this settlement with such a firm grip. Oia is the popularized Greece, the image you will often see on any article featuring the Greek islands. It is the blue domes, the whitewashed buildings, the windmills that serve no function other than being aesthetically pleasing.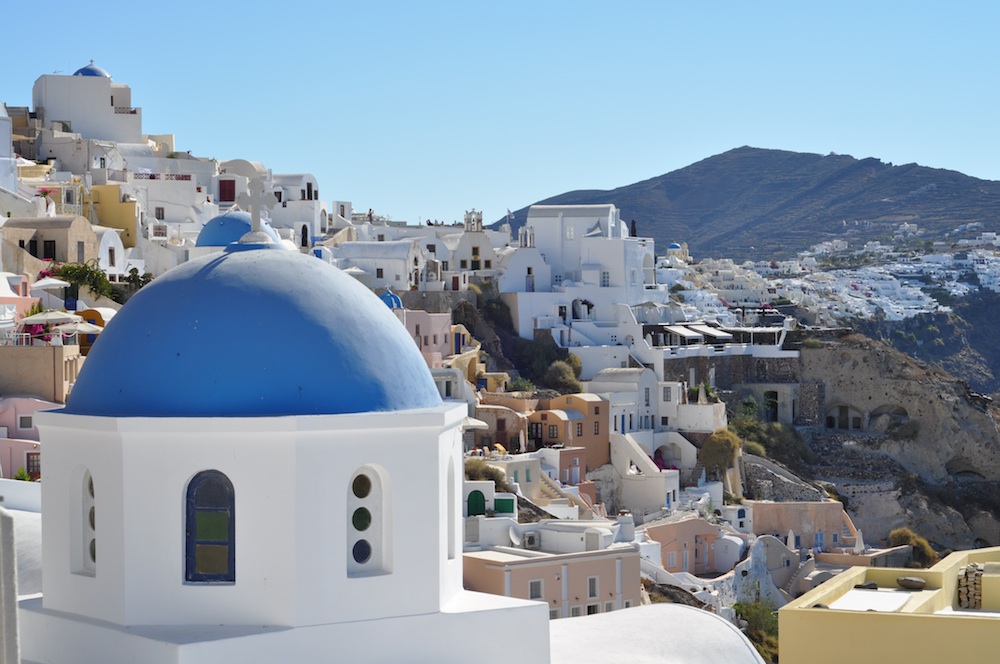 I could see Oia from the distance in Fira. I knew it would be a challenge to reach with a bag fit for a month in Europe. We arrived as they all do, to a tiny tourist office where most of the hotels send their luggage gods to help you cover the steep stairs of Oia to reach your bed for the night. Our luggage help poured in sweat as he struggled with two rolling suitcases. Coming into Oia with tourist eyes, I thought that it must be a dream to live and work here. When I asked my luggage angel how he liked such a job, he remarked, "It's not the best." Even in paradise, work is work. Stair after stair, I realize what he is talking about. To reach Oia, the road is so long and steep that you can lose sight of the picturesque postcard surrounding you.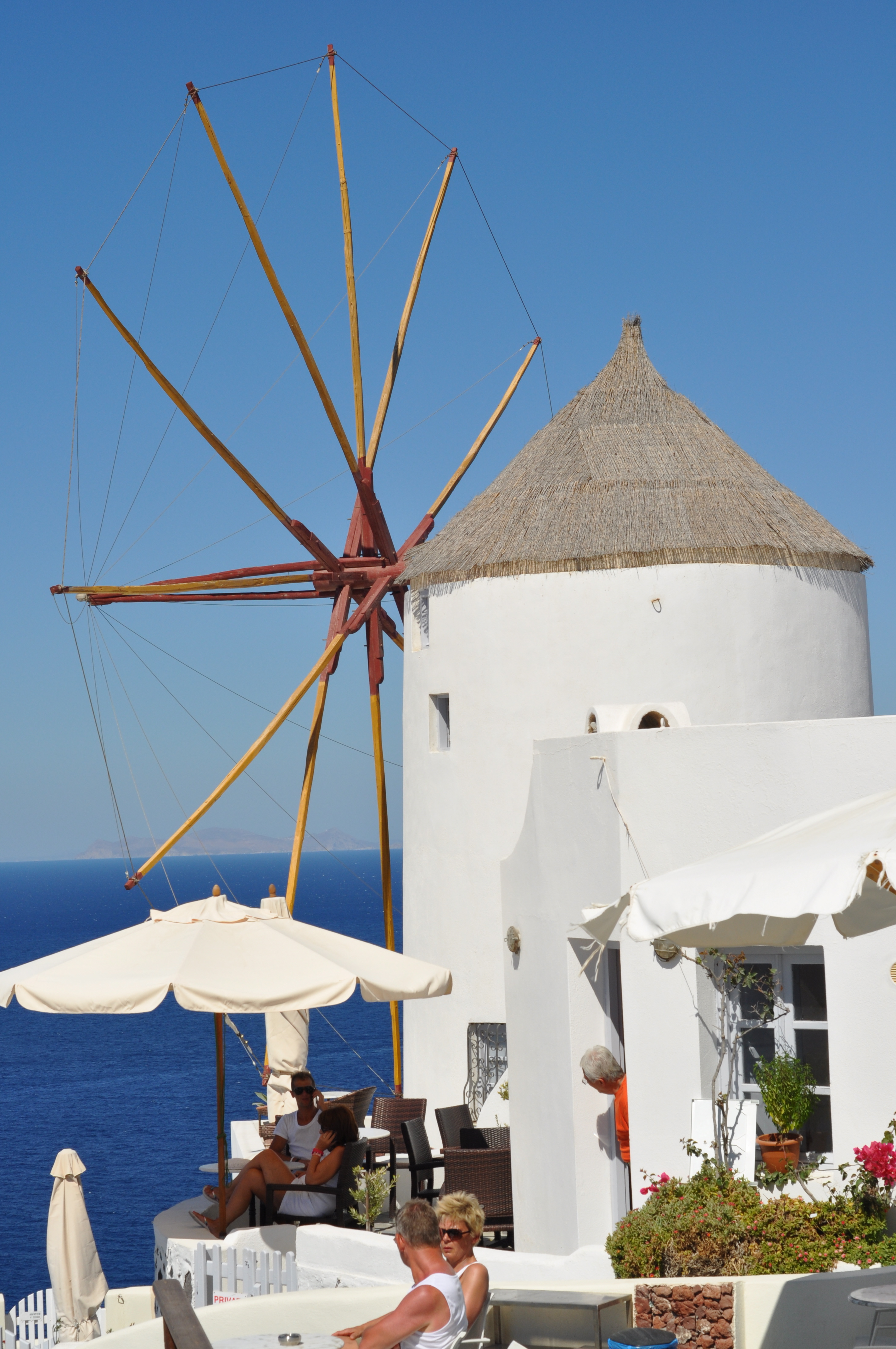 I do as most do in Oia, I roam the tiny streets, popping in shops and cafes along the way. It is a maddening place for the fast walker as those with cruise ship stickers clog Oia's main thoroughfares. I snake through the crowds to find a view of what should be Santorini's most worrisome sight, the caldera, an active volcano buried in the sea. Oia's dream however always clouds reality. It's hard to worry about a volcano in front of you with church bell towers and blue domes clouding your vision.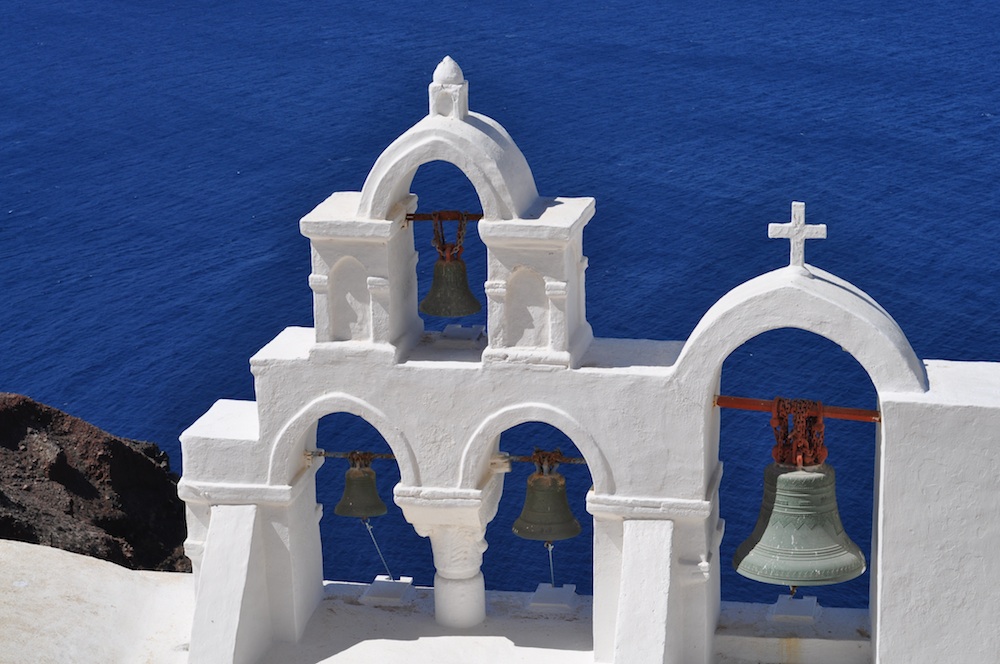 For some comfort I order a Greek coffee, something you would never want to throw back like an Italian espresso shot. I eavesdrop on a fighting couple at a neighboring table, disgusted that this is coffee in Greece, what can be a mouthful of grounds if you don't order at the right place. And again, even in paradise, the couples are quarreling at breakfast in silence, bitter by each other and their cup of coffee.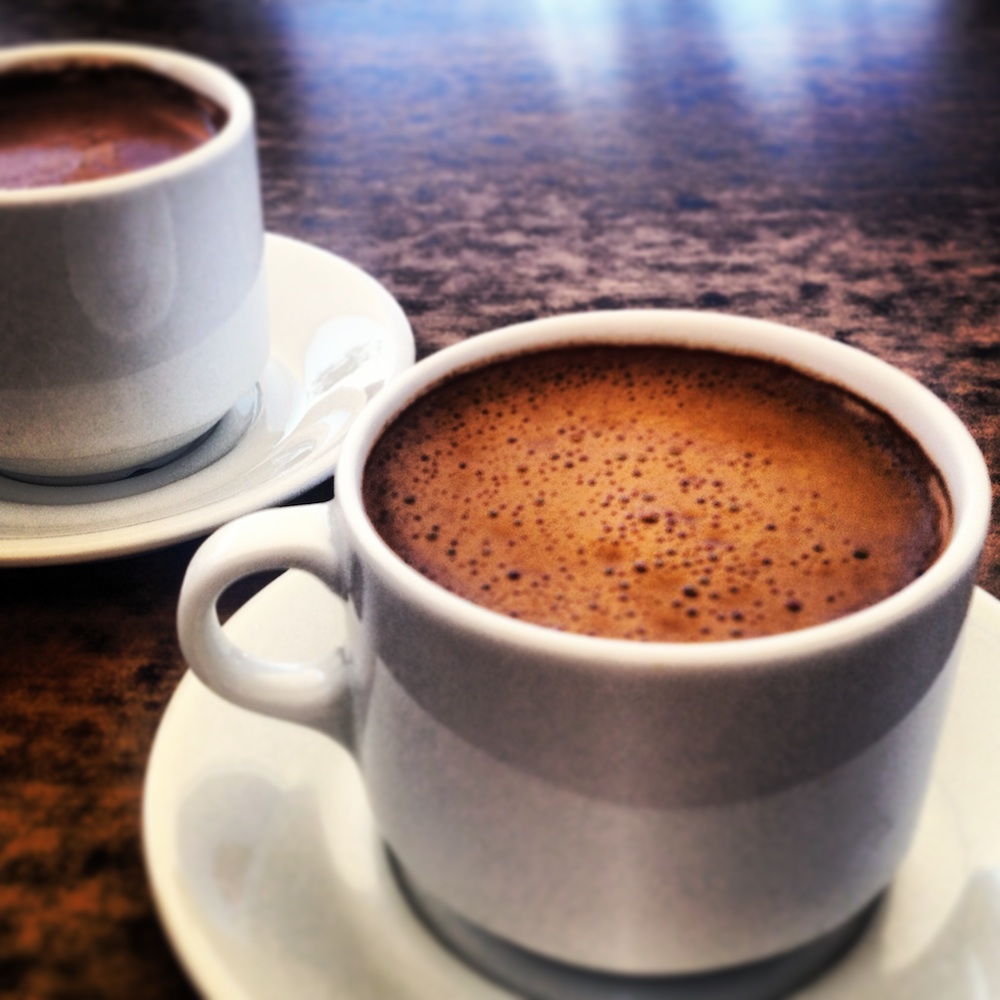 Not much of a shopper or a stroller for that matter, I decide to see what Oia's surroundings offer. I head to Domaine Sigalas, a winery set up on the ancient plain of Oia. Founded in 1991, the winery offers wine tastings right smack in the middle of the vines. We order six tastings and some bread for around 5 euros. And while outside of Oia, sipping on wine while surrounded in the very vines that produced said glass, it is still Santorini's form of paradise by the glass.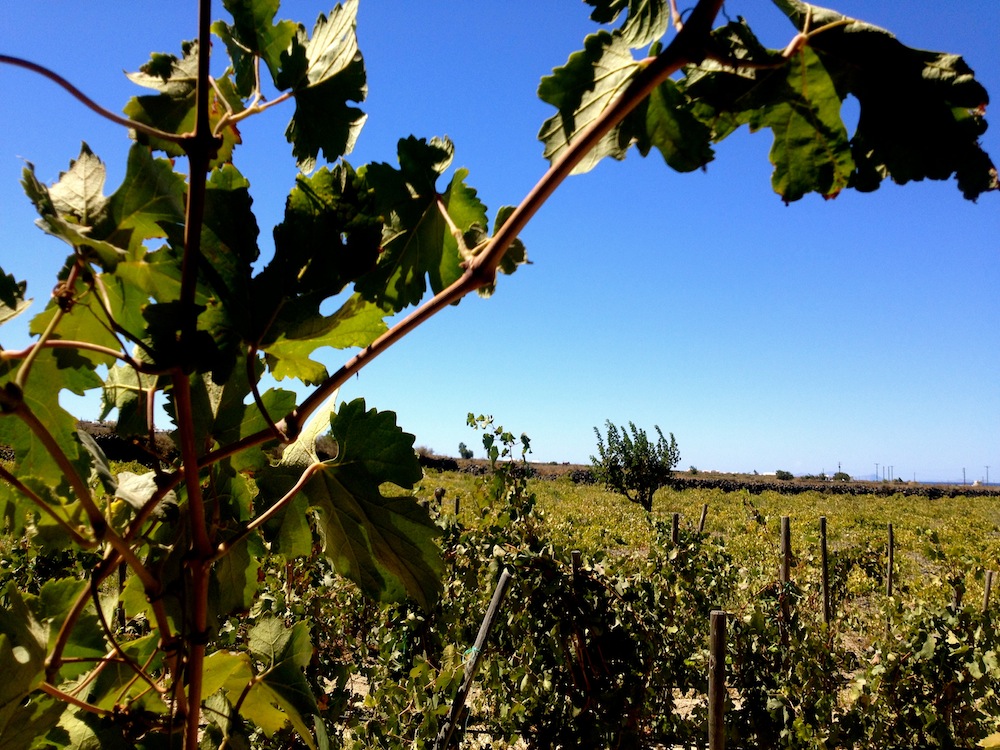 Heading back to my hotel in Oia, I could see the stair steps down to Ammoudi Bay. While the thought of descending didn't scare me, it was the climb back up I wanted to avoid in the heat of the day. Luckily you can reach the tiny port below Oia by car, on foot or even by donkey. Perched at the base of Oia and surrounded in red, this redhead at long last could actually blend into the scene.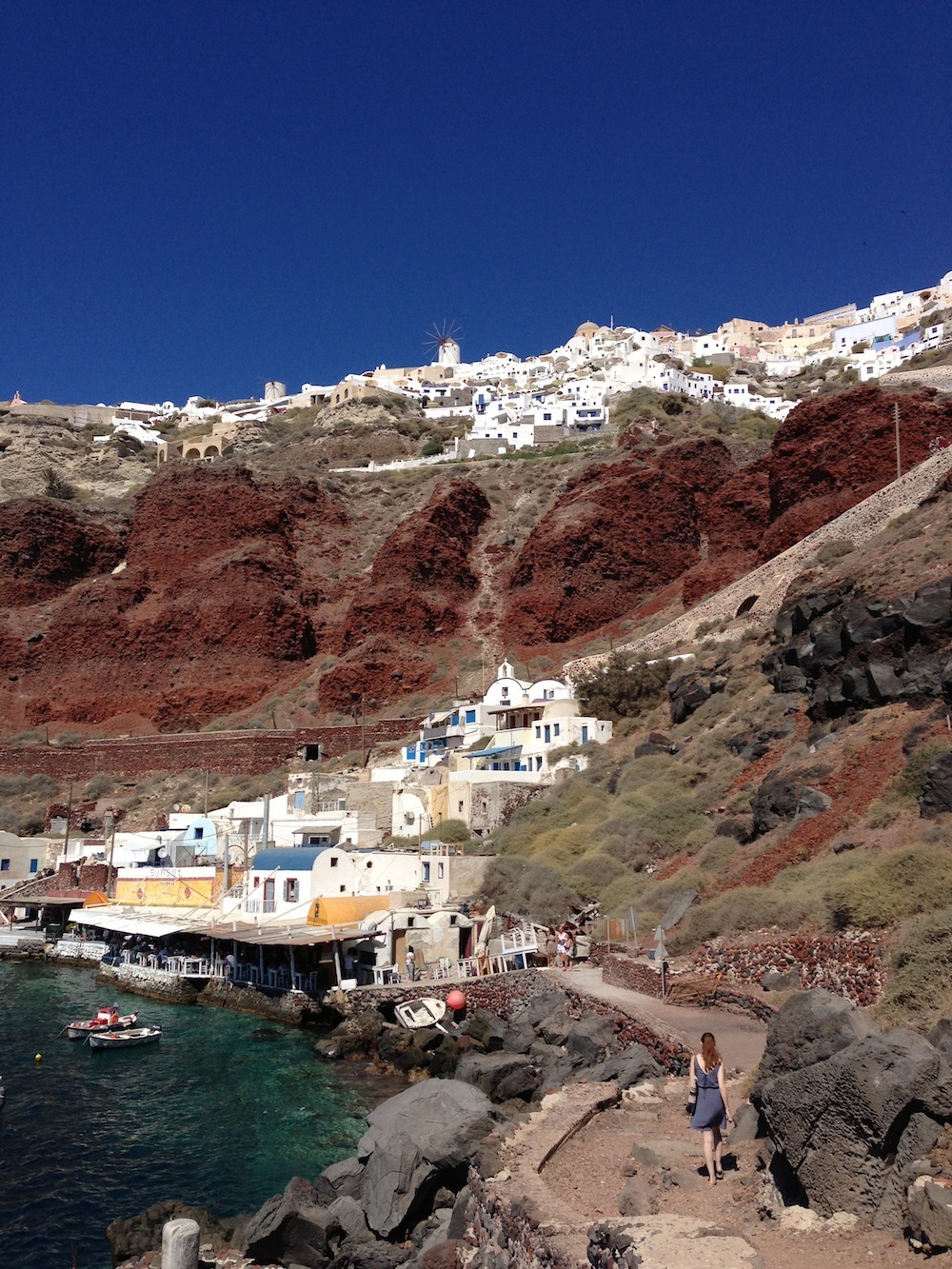 I pass by octopi baking in the sun, hung below waters that could be mistaken for a frequently cleaned pool. More honeymooners are perched at the tavernas gazing out on the water, enjoying fish by the kilo.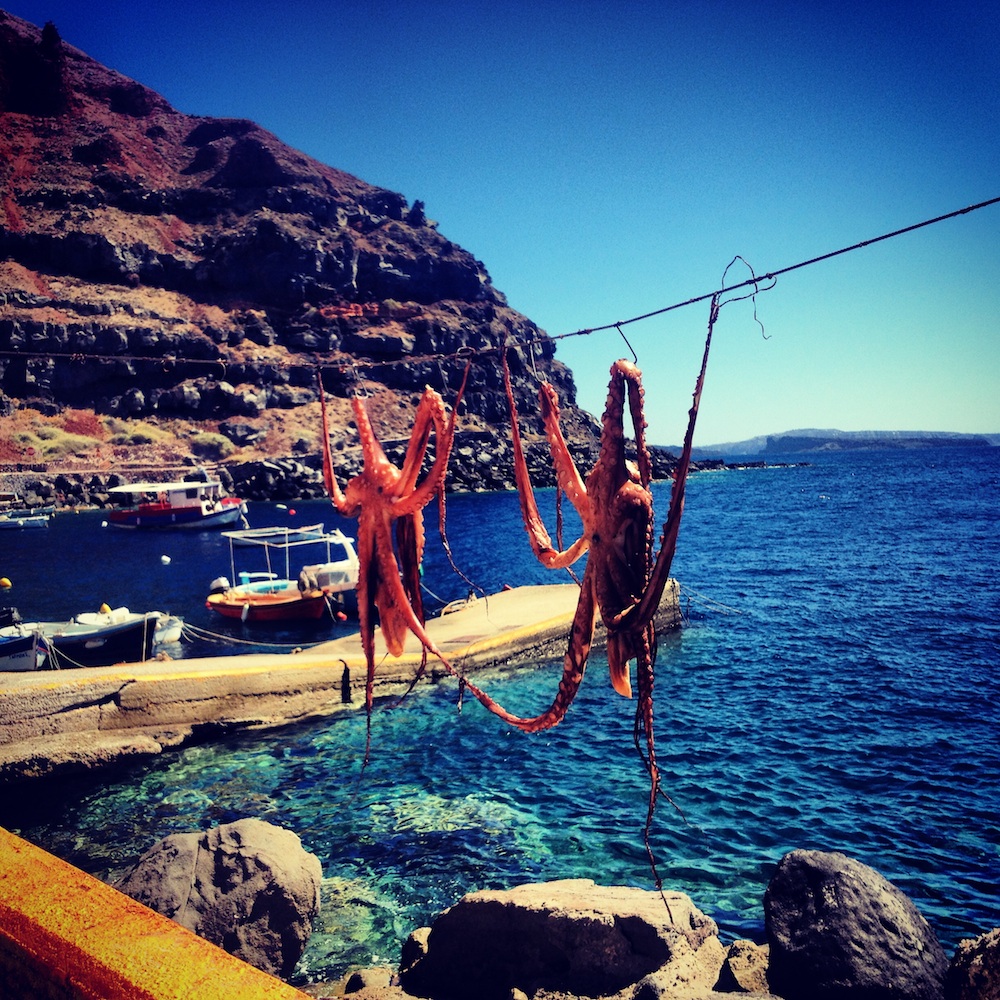 Oia's main activity of the day ironically requires very little activity. For many in a frenzied hurry, you find a perch to watch the sun fade over the water and seemingly into the sea.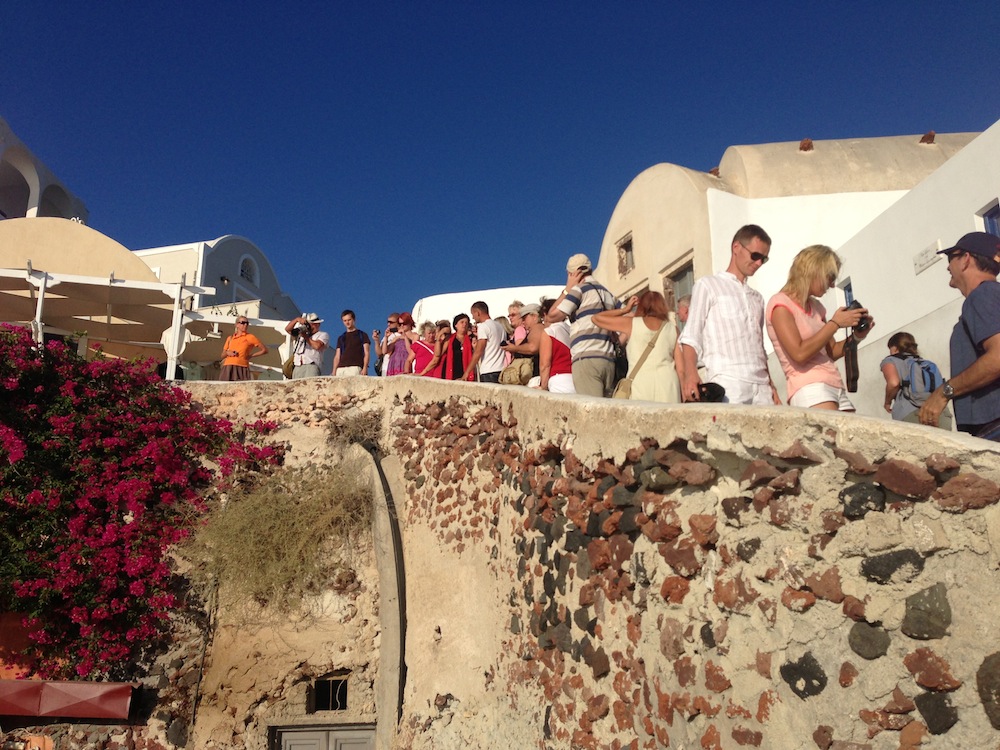 I join the masses and watch night fall on Oia. The scene is relaxed and perfect yet again, but it wasn't always this way. Severely damaged in a 1956 earthquake, Oia is a survivor. The scene I observe today is one of restoration and tourism. Without either, Oia, much like the caldera it watches, would have faded into the sea of other island towns in Greece.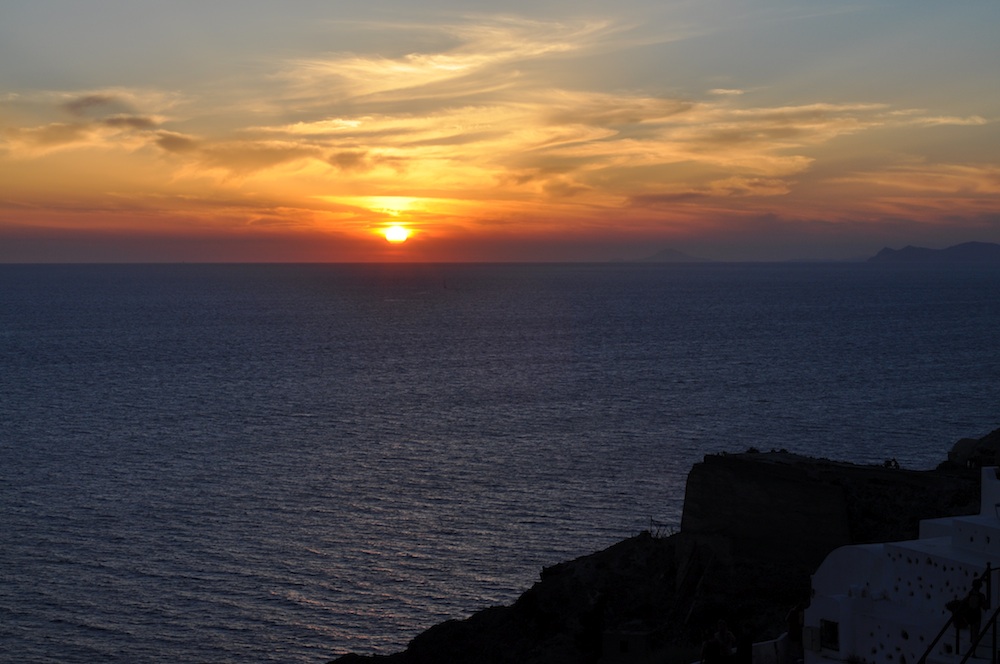 Oia might be a paradise for those who visit, but like my luggage carrying Romanian friend, it isn't always what it seems. I appreciate jumping into the postcard for a few days, but the reality of the postcard has a way of producing itchier feet, those in search of a place not so perfect on paper.
Have you been to Oia? What did you think of its paradise look and feel?